ELECTRICAL ENGINEERING DIVISION
Earth fault in compensated networks
COMPENSATED ELECTRIC DISTRIBUTION NETWORKS
Grid properties and the neutral grounding method affect the basic qualities of the network during single-phase earth (ground) faults. Commonly, the following forms of network neutral point operation are used:
directly earthed (grounded) network neutral point
insulated network neutral point
compensated network neutral point
If it is necessary to reduce single-phase fault currents to beneath the level of single-phase short circuit currents via rapid tripping, it is possible to ground the neutral point of the grid through an EGE earthing (grounding) resistor from the NER series. The earthing resistor is dimensioned for short-term loading from the occurrence of a single-phase fault to the shutdown of the affected network section. ARS-03 protection is used to protect the earthing resistor. This protection checks a resistor's integrity and its thermal load.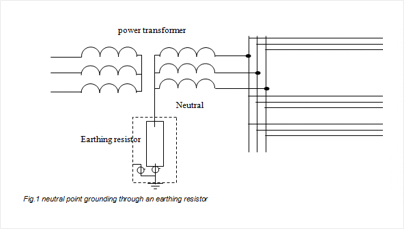 Smoothly adjustable arc suppression coils (Petersen coils) solve the problem of having to trip a faulty feeder due to a single-phase fault. Minimising fault current at the point of a single-phase fault is achieved by tuning the arc suppression coil to a parallel resonance against the ground capacity of the line. The amperage of the fault current reaches just a fraction of the original fault current. With a regulated arc suppression coil, low values of active fault current generally flow through the point of a phase fault with good arc suppression properties.
In well compensated networks, ground faults extinguish themselves, meaning a drop in the number of serious incidents. Consequently, a network or grid can continue operating despite having a ground fault until the fault is detected, so that losses incurred due to power supply interruptions, production shutdown and the like can be reduced. Ordinarily, such occurrences involve maintaining operation with a ground fault for merely a few minutes to several hours.
Arc suppression coils can be connected directly to the existing neutral point of a power transformer or to an artificial neutral point created by an earthing transformer (which is also produced by EGE).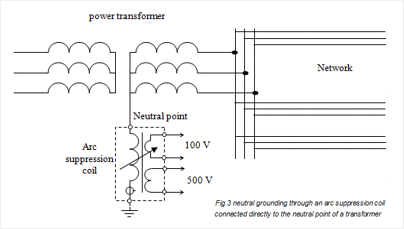 Earthing transformer active part can be placed together with an active part of an arc suppression coil in a shared housing. This solution is known as combined arc suppression coil ASRC.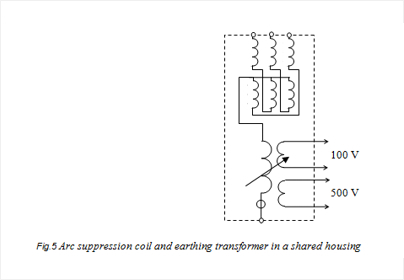 An arc suppression coil can be adjusted manually or automatically. To ensure reliable regulation or tuning of the arc suppression coil, a suitable arc suppression coil tuning controller can be provided.
In order to improve the reliability of ground-fault directional protection, it is possible to use secondary resistors that enable active components of the fault current to be increased for a short time. Secondary resistors are used with a fixed resistance value (SR-series) or with a variable resistance value depending on the single-phase fault impedance (SRA-series).
SRA SECONDARY RESISTOR
These are secondary resistors for short-term increases in the active components of fault current, which respect the variable value of ground fault resistance and types of ground fault protection used. These are equipped with an ARS-01-controller that selects the most suitable size of the resistor to be connected to the auxiliary winding of the arc suppressioncoil and checks the thermal load and correct function of the resistor. The resistor's size is chosen according to ground fault resistance and the adjustment of ground fault protection. It is made possible for resistors to be automatically connected repeatedly when unsuccessful signalisation of ground fault protection occurs. The resistors' properties are set as parameters. From a construction point of view, such a resistor can be fixed to an arc suppression coil.